DEPARTMENT OF THE ARMY
Headquarters, ARCENT-Saudi Arabia Public Affairs Office
Unit #74003
APO AE 09835
27 January 2001
FOR IMMEDIATE RELEASE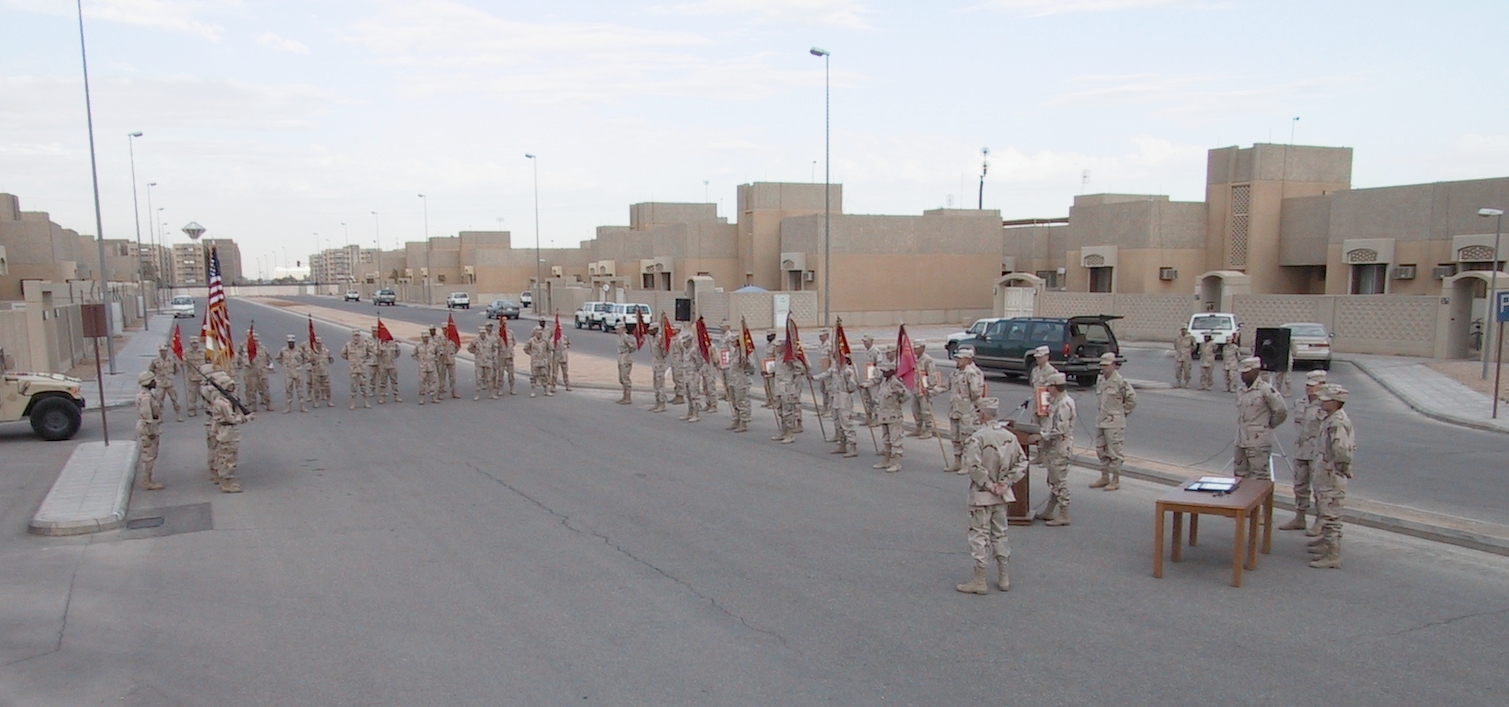 By Lt. Col. Dan Wolfe
Eskan Village, Saudi Arabia -- They were all anxious. One team, anxious to assume the mission for which they have trained. Another, anxious to see their time in the Middle East behind them and return home after a job well done.
On this chilly morning at Eskan Village, the antiballistic missile defense mission in Saudi Arabia and Kuwait changed hands from one PATRIOT missile task force to another. Task Force 2nd Battalion, 1st Air Defense Artillery Regiment relieved Task Force 1st Battalion, 1st Air Defense Artillery Regiment, both home stationed at Fort Bliss, Texas. Lt. Col. John Rossi, Commander of TF 2-1 ADA unfurled the unit colors marking the assumption of the mission. TF 1-1 ADA Commander Lt. Col. Kelvin Bright cased his unit's colors marking the beginning of his unit's trip home.
Both units boast significant firsts. Outgoing TF 1-1 ADA was the first US PATRIOT missile unit to train alongside their Royal Saudi Air Defense Force counterparts. In January, 1-1 ADA conducted four days of combined training at various sites with soldiers from RSADF PATRIOT Battalion 104. Incoming TF 2-1 ADA is the first PATRIOT missile unit to deploy with elements of its National Guard counterparts. Battery B (PATRIOT), 1st Battalion, 203rd ADA Regiment, Alabama Army National Guard, joins TF 2-1 ADA in this historic rotation.
Of the outgoing task force, ARCENT-SA Commander, Col. Marvin McNamara said, "Task Force 1-1 ADA's legacy doesn't stop with the accomplishment of their mission. They leave a better unit. They have trained hard and depart the kingdom as the best-trained PATRIOT battalion our Army has to offer. Task Force 2-1 ADA, now it's your time to shine. Time to execute the mission. Good luck and more to follow."
McNamara also recognized the service of TF 1-1's families. "I ask one thing of Task Force 1-1. As you return home, treat your family members as heroes. They are precious and sacrificed a lot to accomplish this mission."
The PATRIOT Task Force brings a variety of capabilities to Saudi Arabia and Kuwait. TF 2-1 ADA will be providing an integrated air defense capability in support of Joint Task Force -- Southwest Asia (JTF-SWA). The PATRIOT air defense system is currently the world's only completely fielded and operational tactical ballistic missile defense system.
TF 2-1 ADA becomes a subordinate unit to U.S. Army Forces Central Command -- Saudi Arabia (ARCENT-SA).
-30-